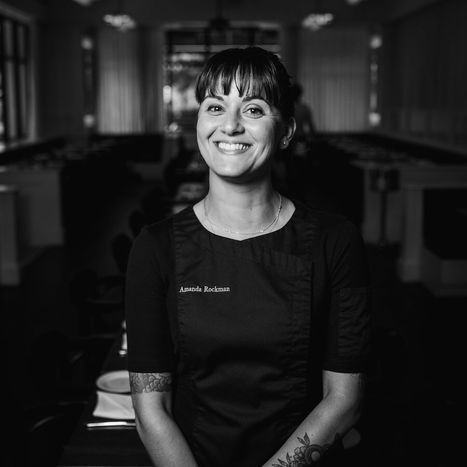 Amanda Rockman
Director of Culinary Projects
FOOD PATRONUS | Chocolate: bitter & sweet
EARLY DAYS | Born in the Midwest; grew up in Texas. Dad is from the Bronx and mom is off the boat from Russia, so not your "typical" upbringing to say the least...try at age 5 explaining to a woman who grew up in Communist Russia why you want to go to a slumber party? No dice!
I staged at a country club when I was 15, and there was a female chef at expo calling the shots. I felt very empowered in that moment (she also threw a bunch on plates on the floor, which I thought was cool at the time; now I know those plates are $$$!).
EDUCATION | Went to Emerson College in Boston for Film and Film-Writing. I transferred to NYU Tisch School of the Arts, but dropped out when I got accepted to The Culinary Institute of America for baking...my parents are still mortified.
I love to write, but I live to cook; I realized that when I was staging at fine dining restaurants in Boston instead of going to film class.
STREET CRED | Started at 19 and worked my way up in fine dining restaurants (Boston, San Fran, mostly Chicago!); I made a point to work for badass female chefs like Emily Luchetti, Gale Gand + Celine Plano. They made me cry a lot, but I made sure to cry in the freezer so no one saw (rule #1). Had Michelin fever, so I worked at three-star L.20 under Laurent Gras and realized it wasn't what I wanted after all. I then decided to work instead for "polished casual" concepts.
My big break was when I opened The Bristol and Balena with BOKA group and got my first big write-up in the Chicago Tribune. I got the nickname "Amanda Rockstar," did Top Chef: Just Desserts, and then had the opportunity to open Nico Osteria for THE Paul Kahan. It was the best opening of my life and a dream team that only comes together once every 100 years.
While working at Nico, I came across an ad for the Executive Pastry Chef position for South Congress Hotel. I thought I would apply for fun and didn't think they would call me, so figured I was safe—they called me six hours later. Woke husband up in the middle of the night to tell him what happened, and he said "lets move!"
Opened SCH and had the most fun of my life doing so; I could make all the things I love and use all the sprinkles (which is a no-no in fine dining—no Michelin stars for sprinkles!)
After a little over two years at SCH, I moved to the New Waterloo HQ team as Corporate Pastry Chef to open Le Politique, Il Brutto, La Matta and push the pastry agenda on all New Waterloo properties.
Basically, I eat sugar all day and run around.
FAVE THING ABOUT NW | I have never grown this much in a company in my life. The fact that I have been given this opportunity is everything. And everyone is pretty good looking.... :)
HOSPITALITY PHILOSOPHY | Make it nice, or make it twice.
SUPER POWERS | Can make anyone like dessert—try me.